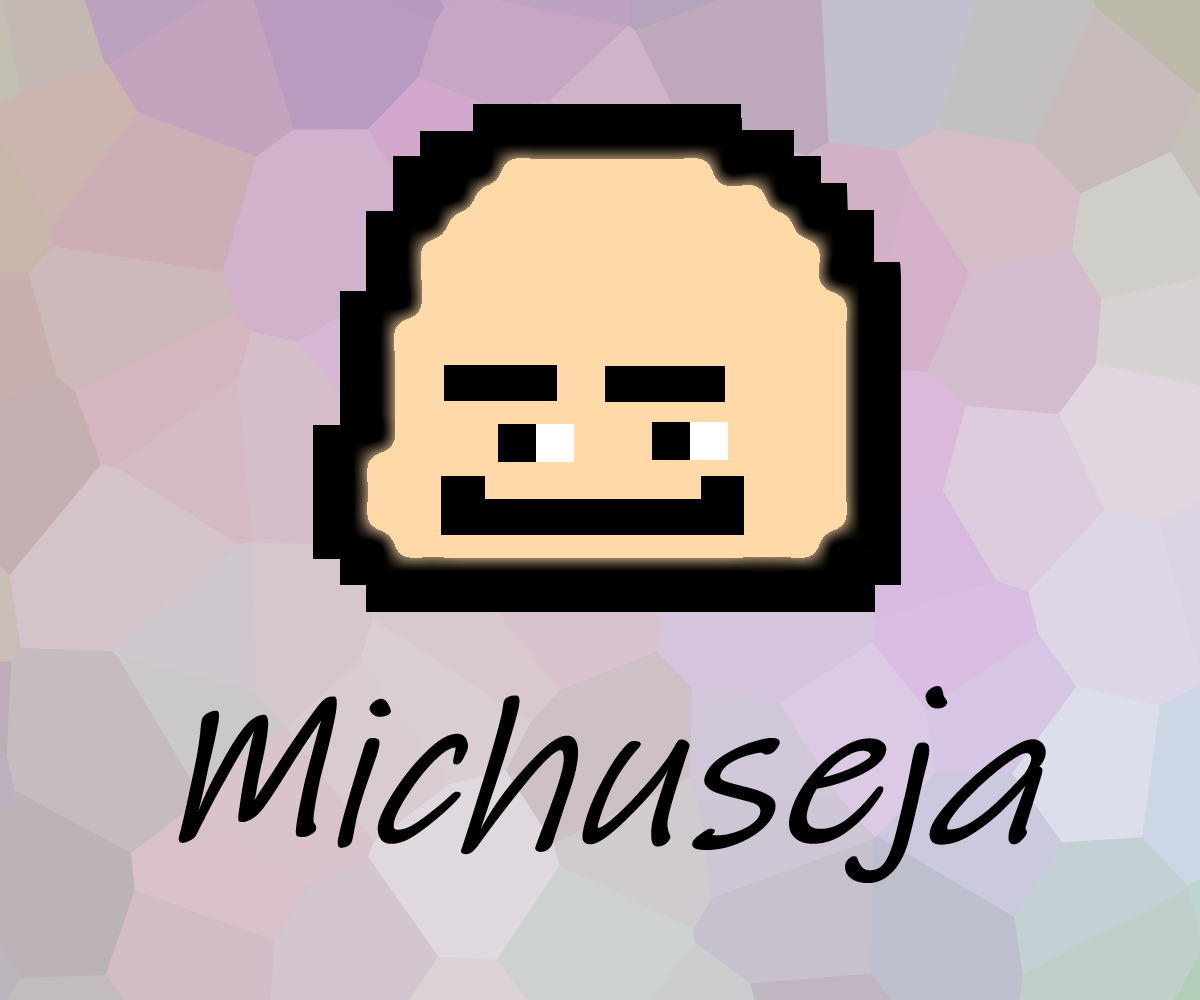 Michuseja - Grarantanna
A downloadable game for Windows
CIĘŻKA GRA NA CIĘŻKIE CZASY
Witam!
Program został napisany przeze mnie w języku Python.
Gra opowiada historię Michała poruszającego się w Imperium Przysłów, rządzonym przez tajemniczego władcę. Gameplay oparty jest o rozszerzające się okno.
Gra zawiera:
- Dubbing
- Wciągającą fabułę
- Rozbudowane lore
- Zagadki
- Muzykę
- Trzymające w napięciu momenty
Wymagania sprzetowe:
- Ekran (przynajmniej pudełko)
(w razie gdyby gra nie mieściła się w ekranie zmienić orientację na pionową)
Zapraszam do pobierania.
Najlepsza gra na liście:
Oculus Rift + Blind Friendly
Recenzje:
10/10 , gra roku ~~moja mama
Jak na 2 dni doświadczenia w pythonie to niezle ~~tata micha
Najbardziej lubię moment kiedy zabijam imperatora ~~progamer88
Nie spojleruj ~~LetsPlayMinecraft
| | |
| --- | --- |
| Status | Released |
| Platforms | Windows |
| Author | igor_urbanik |
| Genre | Adventure, Puzzle |
| Tags | 2D, Cute, grarantanna, Pixel Art, Singleplayer |
| Average session | Days or more |
| Languages | Afar, Abkhaz, Avestan, Afrikaans, Akan, Amharic, Aragonese, Arabic, Assamese, Avaric, Aymara, Azerbaijani, Bashkir, Belarusian, Bulgarian, Bihari, Bislama, Bambara, Bengali, Tibetan Standard Tibetan Central, Breton, Bosnian, Catalan; Valencian, Chechen, Chamorro, Corsican, Cree, Czech, Old Church Slavonic, Chuvash, Welsh, Danish, German, Divehi; Dhivehi; Maldivian;, Ewe, Greek Modern, English, Esperanto, Spanish; Castilian, Spanish; Latin America, Estonian, Basque, Persian, Fula; Fulah; Pulaar; Pular, Finnish, Fijian, Faroese, French, Western Frisian, Irish, Scottish Gaelic; Gaelic, Galician, Guaraní, Gujarati, Manx, Hausa, Hebrew (modern), Hindi, Hiri Motu, Croatian, Haitian; Haitian Creole, Hungarian, Armenian, Herero, Interlingua, Indonesian, Interlingue, Igbo, Nuosu, Inupiaq, Ido, Icelandic, Italian, Inuktitut, Japanese, Javanese, Georgian, Kongo, Kikuyu Gikuyu, Kwanyama Kuanyama, Kazakh, Kalaallisut Greenlandic, Khmer, Kannada, Korean, Kanuri, Kashmiri, Kurdish, Komi, Cornish, Kirghiz Kyrgyz, Latin, Luxembourgish Letzeburgesch, Luganda, Limburgish Limburgan Limburger, Lingala, Lao, Lithuanian, Luba-Katanga, Latvian, Malagasy, Marshallese, Māori, Macedonian, Malayalam, Mongolian, Marathi (Marāṭhī), Malay, Maltese, Burmese, Nauru, Norwegian Bokmål, North Ndebele, Nepali, Ndonga, Dutch, Norwegian Nynorsk, Norwegian, South Ndebele, Navajo Navaho, Chichewa; Chewa; Nyanja, Occitan, Ojibwe Ojibwa, Oromo, Oriya, Ossetian Ossetic, Panjabi Punjabi, Pāli, Polish, Pashto Pushto, Portuguese (Portugal), Portuguese (Brazil), Quechua, Romansh, Kirundi, Romanian Moldavian Moldovan, Russian, Kinyarwanda, Sanskrit (Saṁskṛta), Sardinian, Sindhi, Northern Sami, Sango, Sinhala Sinhalese, Slovak, Slovene, Samoan, Shona, Somali, Albanian, Serbian, Swati, Southern Sotho, Sundanese, Swedish, Swahili, Tamil, Telugu, Tajik, Thai, Tigrinya, Turkmen, Tagalog, Tswana, Tonga (Tonga Islands), Turkish, Tsonga, Tatar, Twi, Tahitian, Uighur Uyghur, Ukrainian, Urdu, Uzbek, Venda, Vietnamese, Volapük, Walloon, Wolof, Xhosa, Yiddish, Yoruba, Zhuang Chuang, Chinese, Chinese (Simplified), Chinese (Traditional) |
| Inputs | Keyboard, Mouse, Xbox controller, Gamepad (any), Joystick, Touchscreen, Voice control, Oculus Rift, Leap Motion, Wiimote, Kinect, NeuroSky Mindwave, Accelerometer, OSVR (Open-Source Virtual Reality), Smartphone, Dance pad, HTC Vive, Google Daydream VR, Google Cardboard VR, Playstation controller, MIDI controller, Joy-Con, Magic Leap |
| Accessibility | Color-blind friendly, Subtitles, Configurable controls, High-contrast, Interactive tutorial, One button, Blind friendly, Textless |
| Multiplayer | Server-based networked multiplayer |
Install instructions
Proszę wyciągnąć folder Michuseja poza zip przed uruchomieniem.
Plik exe znajduje się w:
Data/dist/Michuseja.exe
Comments
Log in with itch.io to leave a comment.
Ciekawy pomysł, bardzo orginalny styl graficzny oraz szacunek za pisanie od zera :)
Akurat zacząłem się uczyć Pythona i zobaczyłem ten konkurs więc stwierdziłem, że może to jakiś znak. :D
Igor jesteś moim bohaterem <3